ProFuture - Microalgae Protein Ingredients for the Food and Feed of the Future
With a global population expected to reach 10 billion by 2050, there is an ever-increasing demand for sustainable protein sources. Microalgae are a very promising candidate to help meet this challenge because of their high nutritional value and low environmental footprint.
However, for the microalgae value chain to become more sustainable and competitive, we need to put in place innovative technology and cost-effective production processes. That is the mission of ProFuture, an EU-funded research project aiming to scale up microalgae production and prepare the market uptake of microalgae proteins as ingredients for sustainable food and feed products.
For 4 years (2019-2023), the project looks at the entire supply chain to minimise land, water and energy use, making microalgae cultivation more efficient, sustainable and affordable. The project helps to turn microalgae biomasses into protein-rich ingredients, creating nutritious foods and feeds. Consumer feedback plays a key role to ensure that the new products, including microalgae bread, snacks, pasta or beverages, will be accepted by European citizens.
The multi-actor consortium consists of 31 partners from 13 EU countries, covering researchers, small to medium-sized enterprises, large companies, and associations, who are experts in a diversity of topics across the microalgae value chain, including consumer studies and science communication.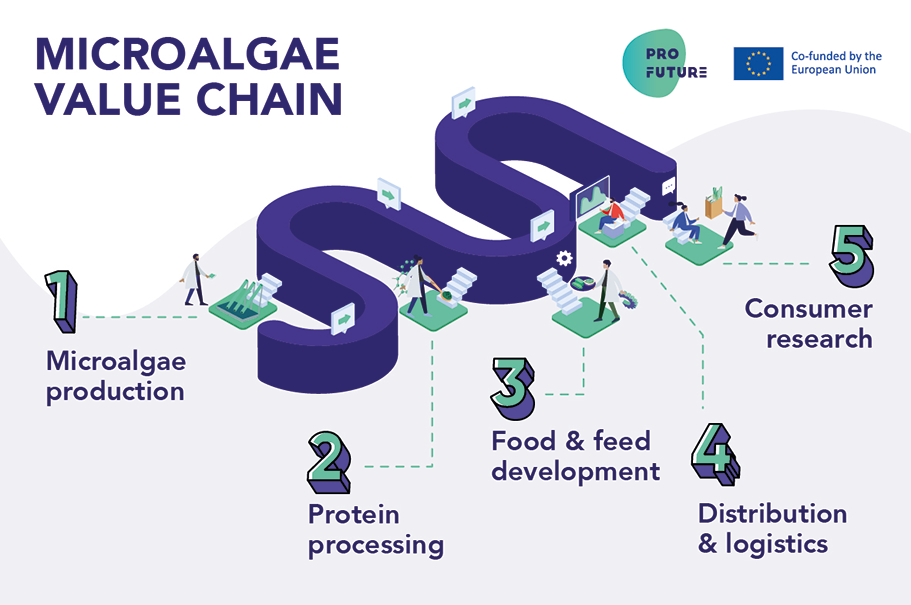 EUFIC's role is to maximise the impact of the project by leading communication and dissemination activities, making sure to engage citizens as well as a variety of stakeholders. The aim is to communicate effectively about the project results and raise awareness of the potential of microalgae as a sustainable and healthy source of protein for food and feed products.
To achieve this, EUFIC developed the project's communication channels (website, social media and newsletters), as well as the visual identity and produced a variety of communication materials, targeted at different audiences. EUFIC also coordinates outreach to the press and events with stakeholders. For example, ProFuture is part of the Horizon4Proteins cluster, together with the EU-funded projects NextGenProteins, Smart Protein and Susinchain. These four projects are joining forces to work on alternative proteins and transition towards a more sustainable and resilient food system in Europe. Via the cooperation, EUFIC communicates and disseminates about consumer acceptance, safety and regulatory challenges, food applications, and sustainability of alternative proteins.
This project has received funding from the European Union's Horizon 2020 research and innovation programme under grant agreement No 862980.
As the communication and dissemination lead of the project, EUFIC designs engagement activities aimed at the general public to increase the acceptance of novel proteins, also by considering the results of the consumer research work of the project. EUFIC also targets specialised audiences across the microalgae value chain together with project partner Bridge2Food. These are the most important activities:
Communicating & disseminating project results to different audiences via numerous outputs (e.g., videos, infographics, leaflets, articles for lay audiences), project channels (e.g., website, social media, e-newsletter) and external channels, such as media.


'Microalgae – Proteins of the Future' – ProFuture Project video

Cooperating with project partners to engage them in the communication of the project, e.g., via a communication and dissemination plan and by setting up an internal communication tool. EUFIC also helps give visibility to partner interviews via the project blog and media.

Engaging stakeholders across the microalgae value chain, for example by reaching out to specialised media and publishing abstracts on the EIP Agri website.


Press coverage March 2022 by Food Ingredients First (based on ProFuture press release)

Engaging stakeholders within the wider context of alternative proteins, for example via the Horizon4Proteins cooperation, organising joint communication and dissemination activities such as webinars.

EUFIC will organise the project's final conference in September 2023.