What kind of food waster are you? Food waste quiz aims to boost citizens' food management skills
Last Updated : 29 September 2023
Brussels, 29th of September 2023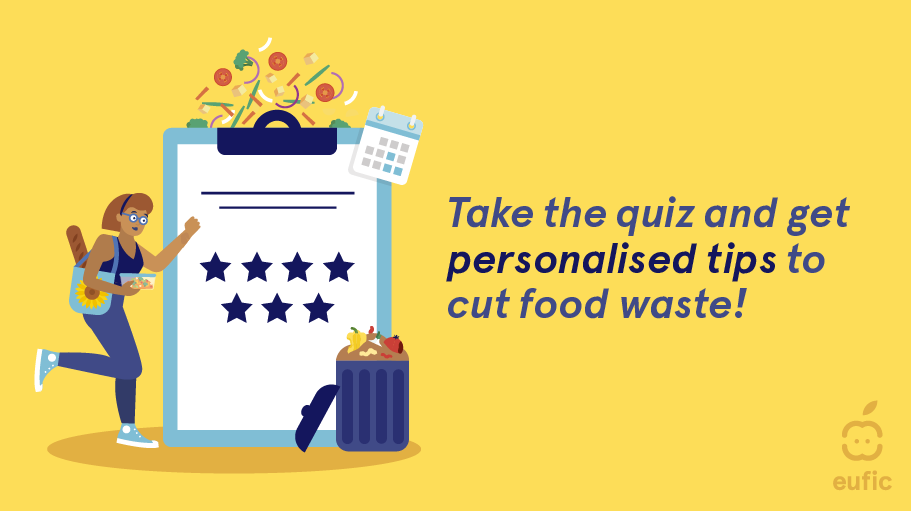 On September 29th, on the occasion of the International Day of Awareness of Food Loss and Waste, convened by the Food and Agriculture Organization (FAO), the European Food Information Council (EUFIC) is launching a one-month food waste campaign, together with a new quiz "Evaluate Your Food Waste Practices!" to encourage citizens to take simple steps at home and positively contribute to the larger challenge. Quiz and awareness raising materials are available in English, Spanish, Italian, French and German.
A food waste quiz providing personalised tips
"Although most households are willing to reduce their food waste, it isn't always easy for them to do so, and they may not have enough knowledge to support them. Therefore, EUFIC developed a quiz to help identify what type of information individuals need to reduce their food waste, so we can provide them with useful tips on this issue. Our hope is that once people better understand how to reduce food waste, they will feel more empowered to act on this important goal." said Dr Betty Chang, Research Area Lead at EUFIC.
The quiz, developed by EUFIC, is a set of 28 questions targeted to analyse consumers food waste patterns and share as results a personalised series of tips, according to their habits, on how to limit food to end in their garbage.
Eurostat's 2020 data shows European households generated 55% of the total food waste, accounting for 70 kg per inhabitant per year. Last May, the European Commission presented a proposal to reduce EU food waste by 30% by 2030. Under the scheme proposed by the Commission, Member States will be legally obliged to reduce overall food waste in shops, restaurants and households by 30% per capita by the end of 2030, based on 2020 data.
EUFIC therefore invites citizens to take part in the fight against food waste and learn new food management skills, boosting people's motivation and knowledge to actively become a part of the solution.
Get involved in the Food Waste Campaign
To get engaged in the campaign during the next month, EUFIC encourages all stakeholders to share the quiz "Evaluate Your Food Waste Practices!" (available also in Spanish, Italian, French and German).
In addition to the quiz EUFIC launches fact sheets with actionable tips on consumption habits, planning, preparation, shopping and storage, that will be shared throughout the coming weeks on the organisation's social media channels, Twitter, Facebook and Instagram.
On the 3rd of October, a high-level event in Valencia sets to shine a spotlight on food loss and waste reduction strategies takes place in Valencia, and is still open for (online) registration. Among the speakers there will be representatives of the European Commission, the Food and Agriculture Organisation (FAO) and the Spanish Minister of Agriculture and Fisheries.
ENDS
Background
Reducing food losses and waste is essential in a world where the number of people affected by hunger has been slowly on the rise since 2014, and tons and tons of edible food are lost and/or wasted every day.
Held on September 29th for the fourth consecutive year, the International Day of Awareness of Food Loss and Waste is an opportunity to call to action both the public (national or local authorities) and the private sector (businesses and individuals), to prioritise actions and move ahead with innovation to reduce food loss and waste towards restoring and building back better and resilient-ready, food systems.
Food loss and waste undermine the sustainability of our food systems. When food is loss or wasted, all the resources that were used to produce this food -, including water, land, energy, labour and capital - go to waste. In addition, the disposal of food loss and waste in landfills, leads to greenhouse gas emissions, contributing to climate change. Food loss and waste can also negatively impact food security and food availability, and contribute to increasing the cost of food.
UNEP's 2021 Food Waste Index Report measured 931 million tons of food sold to households, retailers, restaurants and other food services each year; this means 17% of all food available at consumer level is currently wasted.
EUFIC articles
About EUFIC
EUFIC - The European Food Information Council, is a consumer-oriented non-profit organisation, founded to make the science behind food and health more accessible and easier to understand among the public. Our mission is to produce science-based content to inspire and empower healthier and more sustainable diets and lifestyles among European citizens.
For more information about EUFIC, visit Eufic.org.
Contact
Marie-Christine Thurm, Media relations, EUFIC, marie-christine.thurm@eufic.org

Co-funded by the European Union (under grant agreement No 101124527). Views and opinions expressed are however those of the author(s) only and do not necessarily reflect those of the European Union or the European Health and Digital Executive Agency (HaDEA). Neither the European Union nor the agency can be held responsible for them.